The one-day BMAT preparation course created by Oxbridge medical students – for just £129. 
Priced at £129, the BMAT Crash Course is the most effective BMAT preparation course on the market. Created by Oxbridge medics and run by a team of experienced medical students, we've recently been through the system and will teach you everything you need to know (and more) to get the best score possible.

BMAT Crash Course In A Nutshell
We know you're busy. So here's the essential information about the 6med BMAT Crash Course.
It's a one-day course, which runs from 10am – 5:30pm most weekends from July – October each year.

Each class has around 30 students, with 1 instructor who is a medical student at top university. The course is priced at £129 per student. See our reviews.
Each student gets a copy of our 300-page A4 course e-book. See samples of our materials.
We spend the morning going over Section 1 – Thinking Skills which tests Critical Thinking and Problem Solving. We teach tips and techniques, and do lots of timed practice questions.
Most of the afternoon is spent on Section 2 – we teach you all the Physics you need to know, and cover some of the trickier Biology & Chemistry topics too, with timed practice questions along the way.
We spend the final hour on Section 3, planning a sample essay as a class and showing you how to manage your time in the writing task.
We've been running these courses for the last 6 years, and have taught over 10,000 students. Check out our Reviews page to see what some of them had to say.
We also run courses for the UCAT and Interviews, if either of those tickle your fancy.
Ali's 'BMAT Tips' Video Series
Ali, one of our co-founders, put together a series of YouTube videos detailing tips and tactics for the BMAT while he was on his medical elective in fifth year. You might find some of them helpful.
7 hours. That's how long the course lasts. Is it enough to prepare you for the BMAT? Of course not. But it's a pretty good start, and a great foundation upon which to build your own revision.
Section 1
Thinking Skills
Although this section is notoriously difficult to prepare for, we'll be taking you through some of the more difficult questions in each category, and teaching you the best methods for dealing with them. Sure, some of them will involve pure number crunching, but there's usually a shortcut to the right answer, and the "trick" to doing well in this section (and indeed, the whole paper) is to find that shortcut in the time given. That's what we're aiming to teach you.
Section 2
​Scientific Knowledge​
This section is all about using your knowledge of Biology, Chemistry, Physics and Maths to beat the clock that only gives you a minute per question. On the course, we'll be teaching you all the Physics you need to know for the BMAT (as most don't do it at AS), and also going through some of the more difficult Biology and Chemistry questions that always come up. You'll also get our excellent handbook which contains comprehensive notes on all the topics for you to revise from.
Section 3
Writing Task
In the final hour of the course, we'll be going through some past essay questions, and talking you through how to plan and structure your essays, how to write the perfect introduction and conclusion, and most importantly, how to ensure you meet any cut-off points that universities impose.
This is arguably the easiest and least important section of the BMAT, so it's a nice way to end an otherwise intense day.
Booking for our BMAT Crash Course this year is now open. If you'd like to know more about the course or about us, feel free to browse around this website, and please do contact us if you have any questions. Hope to see you soon!
We run our BMAT Crash Courses almost every weekend from July until October. Our Crash Courses this year are running online due to COVID-19 measures. You can check the available dates and book your place by clicking the button below.
Refund Policy: If you change your mind about attending the course (or even taking the BMAT altogether), just let us know at least 14 days before the course and we'll give you a full refund. If there's less than 14 days to go before the course, we can transfer your registration to another student (if you know someone who'd like to take your place) for a small admin fee, but sadly we won't be able to refund you.

BMAT.Ninja™
BMAT Ninja is our online BMAT preparation system that launched in 2015. It's the perfect online companion to the BMAT Crash Course, containing all of our course material and much more.
The 'Training Temple' has written tutorials and notes for Sections 1, 2 and 3, with interactive practice questions and 50+ example essays. The 'Practice Dojo' is the biggest BMAT question bank in the world, with over 2,000 questions available free of charge. And finally, the 'Exam Arena' contains worked solutions for the 2003-2019 BMAT past papers, and allows students to take the papers on our online system and get a breakdown of their score.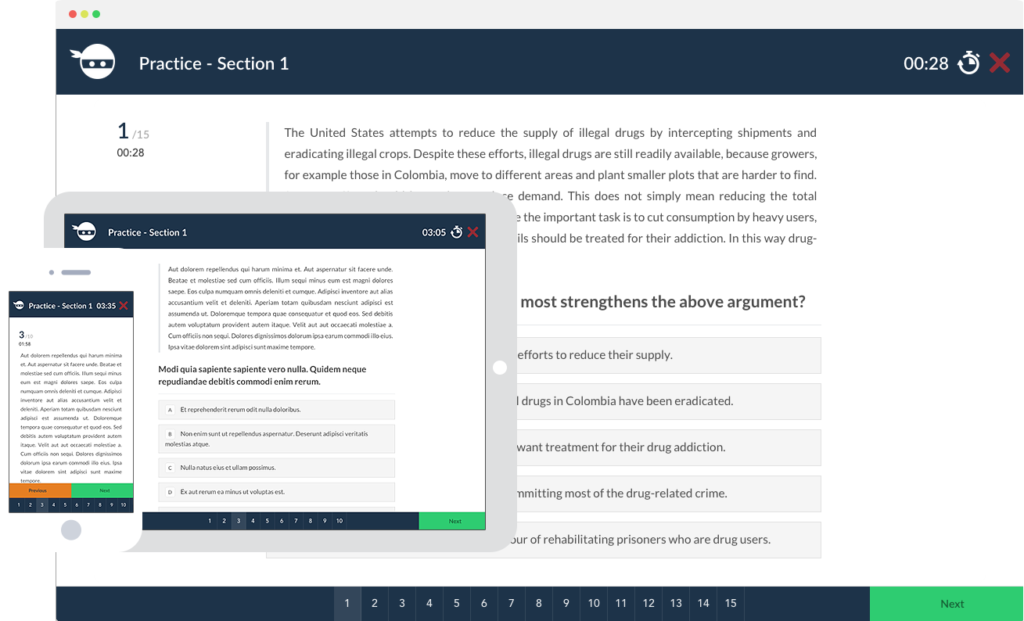 We're a team of medical students (and friends) from some of the UK's top universities. Our company (6med) started up in 2013 with a simple mission – to provide the most effective and yet most affordable exam preparation courses on the market, and to "level the playing field" warped by corporations profiting from the exploitation of budding medical students.
Please visit the About Us page to find out more, or check out our company website at www.6med.co.uk.
Hundreds and hundreds of students have attended our courses and loved them. In this page, you can find their unedited reviews of our courses.
Hi! I attended your BMAT crash course in early September last year. Now I have just received my offer to read biomedical science at Oxford!!!!! Thank you guys so much for putting together loads of practice questions with detailed answers online as well as some excellent techniques! Couldn't have 'passed' BMAT without your help!