Number of questions In BMAT Section 2
There are a total of 27 questions in Section 2 and they will all be in a multiple-choice format.
The questions will be based on Biology, Chemistry, Physics and Mathematics and the number of questions for each topic in Section 2 is shown in the table below.
| Topic | Number Of Questions |
| --- | --- |
| Biology | 7 |
| Chemistry | 7 |
| Physics | 7 |
| Mathematics | 6 |
| Total | 27 |
You will have 30 minutes to complete Section 2, which equates to around 66 seconds per question.
BMAT Section 2 Time Pressure
Your ability to answer questions under time pressure will be tested in the Chemistry section of the BMAT.
To save time you should practice efficient data analysis to understand exactly what information is required from each question.
Ensure that you remember all of the necessary processes, reactions and equations in the specification well so that you don't waste time here.
You should become familiar with doing calculations without a calculator.
Practising questions under exam conditions will be highly beneficial to you as there will be the added pressure of a new and stressful environment on the day. You could perhaps ask one of your teachers to set a mock exam up for you, especially if some other students in your year are also sitting the BMAT.
BMAT Section 2: Chemistry Specification
Examinable Chemistry content is shown below and has been adapted from Cambridge Assessment Admission Testing's BMAT Content Specification.
Just click the topic to see the full specification.
You are also expected to be familiar with the following SI prefixes:
| Prefix Name | Value |
| --- | --- |
| Nano- | 10-9 |
| Micro- | 10-6 |
| Milli- | 10-3 |
| Centi- | 10-2 |
| Deci- | 10-1 |
| Kilo- | 103 |
| Mega- | 106 |
| Giga- | 109 |
BMAT Chemistry topics – How to revise for each topic
Section 2: Chemistry can be prepared for in various ways.
Cambridge Assessment Admissions Testing have published a useful preparation guide to help you with this. Their website contains a lot of free resources and it can be found here.
The website contains practice papers, Chemistry preparation guides, videos and further resources. You will become familiar with the Chemistry questions whilst using their wide range of resources, as they are responsible for creating the exam.
You should also look over the above specification, adapted from Cambridge Assessment Admission Testing's BMAT Content Specification to prepare yourself for BMAT Section 2: Chemistry.
If you find that there is an area that you haven't covered in school then find an appropriate resource, like a GSCE/IGCSE Chemistry textbook or Cambridge Assessment Admission Testing's free online resources in Chemistry.
Finally, 6med have a ton of BMAT resources available for candidates to use for their preparation. Our BMAT Bundle gives you access to everything we have on offer for the BMAT including a Crash Course and access to BMAT.Ninja (our online learning Dojo).
We're probably biased, but we worked really hard on creating these resources and students feel they work, so if you're interested – check them out. If money is holding you back, we offer generous bursaries, so please don't let finances get in the way of your preparation.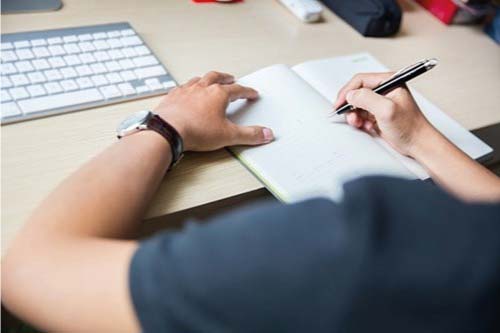 BMAT Section 2 Question & Answer Types
All questions in this setion of the BMAT are multiple choice. You'll be given a question book and an answer sheet on the day. The sheet will look similar to the image below: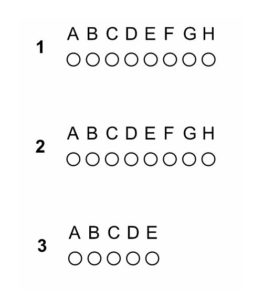 The number of answers can vary from question to question. To select an answer, you just shade the corresponding circle with a pencil (so that you can change your answer if necessary).
You don't get any marks for showing your working, unfortunately.
You can be tested on any part of the above Chemistry specification in BMAT Section 2.
Fully Worked BMAT Chemistry Questions & Answers
In this part of the article we'll work through three practice questions with in-depth solutions.
If you want to work through the questions yourself first scroll with care!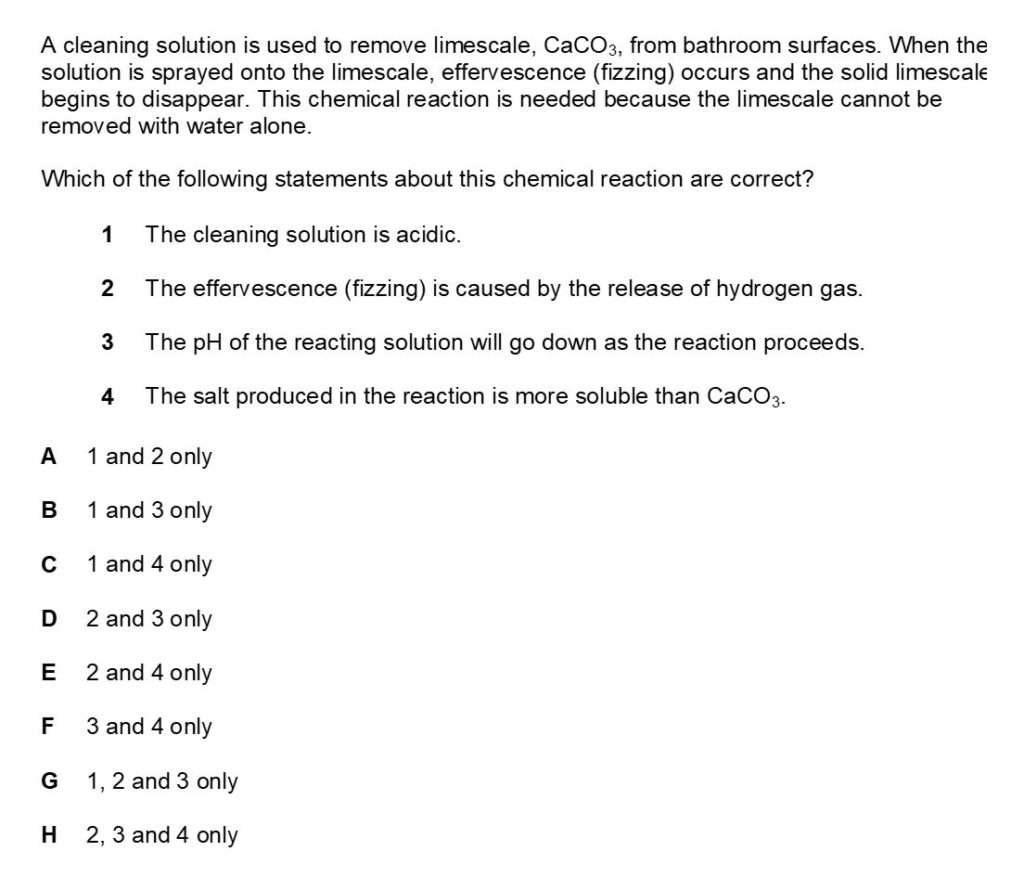 Question 1 Fully Worked Solution
The answer for this is C.
All metal carbonates react with acidic solutions to produce carbon dioxide, which causes the effervescence (fizzing).
As an example, the reaction with hydrochloric acid is CaCO3 + 2HCl(aq) à CO2(g) + H2O(l) + CaCl2(aq).
This bubbling can be detected by passing gas through limewater, which will go cloudy. This means that statement 1 is correct but statement 2 is incorrect.
The pH will not go down as the reaction proceeds, as the neither carbon dioxide, water nor the salt formed are acidic. This means that statement 3 is incorrect.
Finally statement 4 is correct as calcium carbonate is insoluble, this is because the electrostatic bonds between carbonate anions and calcium ions are too strong to be overcome by water molecule solvation. Salts such as calcium chloride are highly soluble because water as a polar compound has the ability to dissolve compounds that have ions.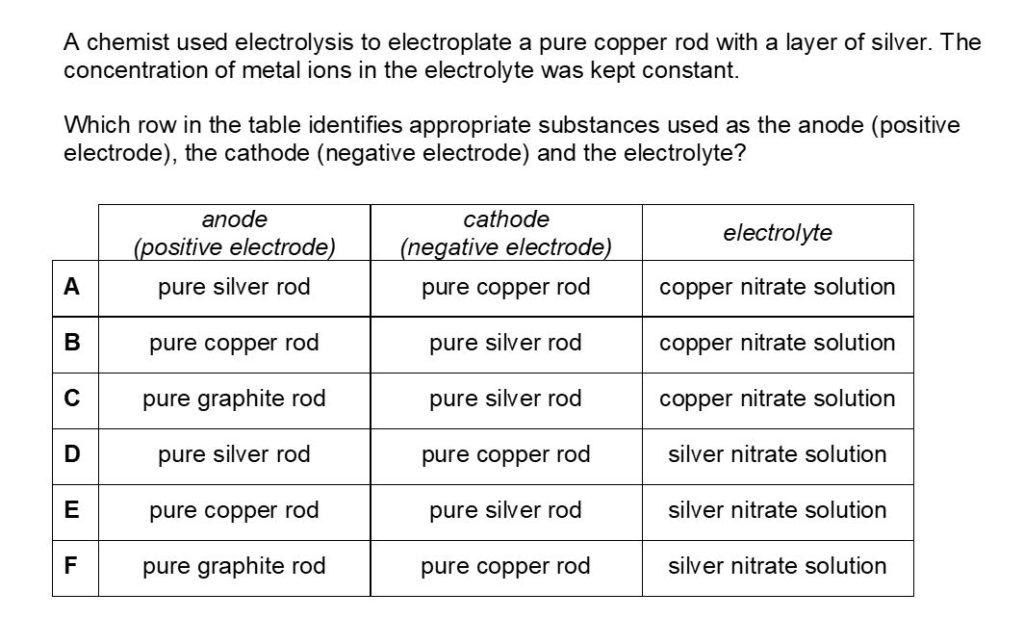 Question 2 Fully Worked Solution
The answer for this is D.
Electrolysis is the process where objects are electroplated, which means coating them with a thin layer of metal.
Here the negative electrode should be the object to be electroplated, the positive electrode should be the metal you coat the object with and, finally, the electrolyte should be a solution of the coating metal.
When copper is introduced into an aqueous silver nitrate solution a redox reaction occurs. The pure elemental form of copper is oxidized by the silver nitrate and it loses electrons and forms copper ions.
These ions then replace the silver ions in the aqueous silver nitrate to form copper nitrate.
Meanwhile, the silver nitrate undergoes the opposite process.
The silver ions in the solution gain electrons as they undergo reduction. This changes them into their elemental form and the reaction can be expressed as Cu + AgNO3 = Ag + CuNO3. As the elemental form of silver nitrate accumulates, it starts to form a silver coat around the copper wire.
Answer B is incorrect as during purification of copper via electrolysis, the anode is made from impure copper and the cathode is made from pure copper.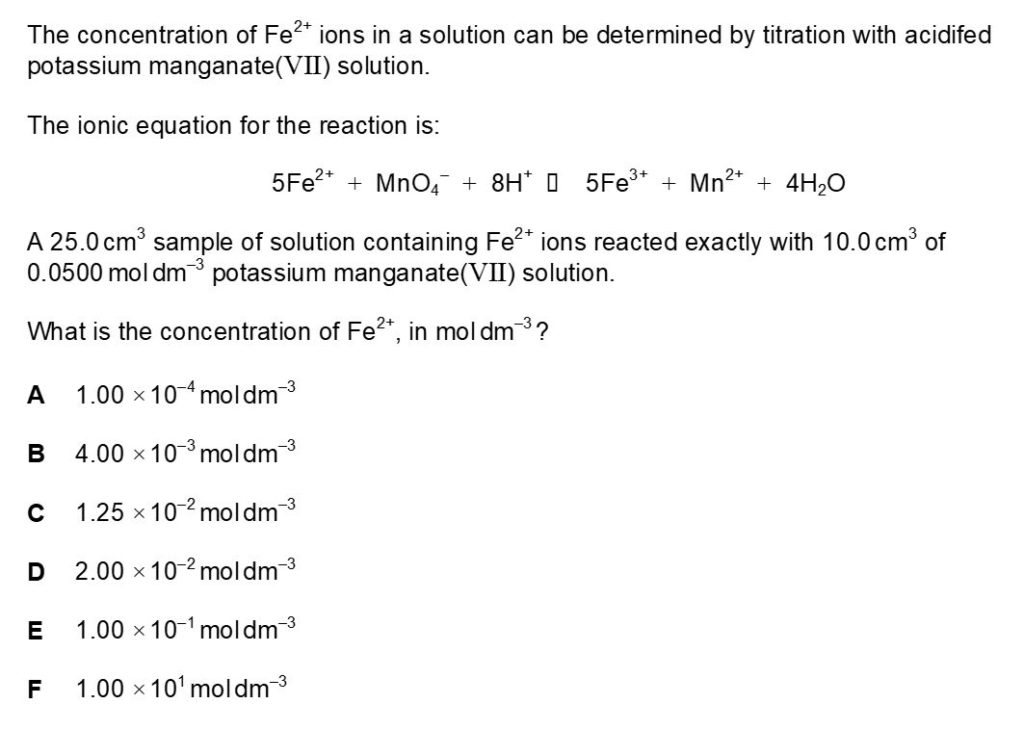 Question 3 Fully Worked Solution
The answer for this is E.
Firstly; the amount of MnO4– in moles should be calculated. The equation for the amount of solute in mol is concentration in moldm-3 x volume in dm3.
Amount of solute in mol = 0.0500moldm-3/0.01dm3 = 0.0005mol
The next step is to find out the amount of Fe2+ in moles.
The mole ratio of Fe2+:MnO4– can be derived from the balanced equation in the question and the answer is 5:1. Therefore 0.0005mol of MnO4– reacts with 0.0025 of Fe2+.
Now the concentration of Fe2+ can be calculated, the equation for this is amount of solute in mol/volume in dm3.
Concentration in moldm-3 = 0.0025mol/0.025dm3 = 0.1moldm-3.
BMAT Section 2 Scoring for Chemistry questions
Chemistry questions will form 7 of the total 27 questions in Section 2 'Scientific Knowledge and Applications'.
There is no negative marking for the Chemistry questions and each one is worth one mark.
All questions should be attempted, as there is no pass/fail threshold for BMAT. At the end, you will be given a combined mark from Section 1 and 2 and the scale runs from 1 (low) to 9 (high).
5.0 is the average test-taker's mark. Exceptional candidates will score 7.0 or above.
Closing Tips for the BMAT Biology section
Start with the specification.
It's a good idea to go through the specification and put a tick next to topics you know well and highlighting the areas you don't feel as confident in.
You could then distribute your time depending on what areas require more attention. If you notice that there are areas that you have not covered in school then you should find resources such a suitable Chemistry textbook or relevant BMAT resources.
Practice is key!
As with any exam, it's important to practice so you're familiar with the question types and formats. You'll also uncover your weak areas, which you can then work on to improve.
Use worked solutions for difficult questions.
If you are able to find worked solutions, these are incredibly helpful in understanding why an answer is correct.
Our BMAT Ninja platform has 1,400 practice questions with fully worked solutions for each of them so, if this method helps you, you can get access through the BMAT Bundle or individually.
That's all for the BMAT Chemistry section folks!
We've tried to make this post as in-depth as possible without making it a boring read. Although Section 2 of the BMAT is tough, it's tough for everyone. Just remember to put the time in and set yourself up for success when you walk into the exam room.
If you feel like you need extra support, 6med are always on hand to help.